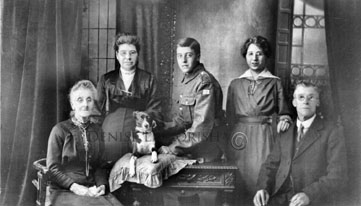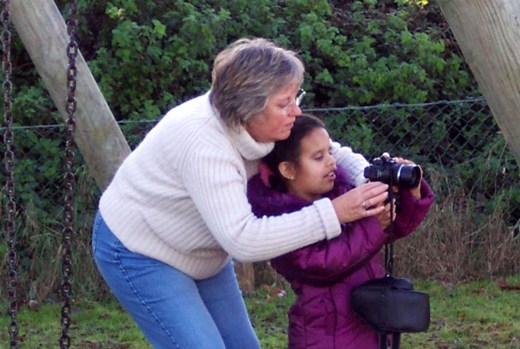 I started researching the surname Christmas in the early 90's as it was my mothers maiden name.
The picture above shows my Great Great Grandmother Bithiah Nicholson (Bridge) next to her is her daughter Annie Ada Christmas (Nicholson). Then Annie's son, my Grandfather, James Allan Christmas and his sister Marie Christmas, my Great Aunt, finally James Christmas Annies Husband, my Great Grandfather. The other picture is of myself and Grandaughter Demitra. In 1995 my Great Aunt Marie (Christmas) died at the age of 100, there was a wealth of photo's and letters at the cottage, where she lived, these were passed on to me as I was researching the surname. The family have been living in this particular cottage since the early 1800's which is why I believe there was so much material for me to play with. I have tried to research as much as possible the full family members especialy on the female lines, hence I have been researching the names Christmas, Boorn, Nicholson, Bridge. Also the name Claydon which was my maternal grandmothers maiden name. Obviously this is still ongoing so if anyone has any information of these familys or have spotted any mistakes, all information would be gratfully received. My husband Philip has been researching the surname Lickorish and variant spellings to reach his site click the "Lickorish" button above.

PLEASE NOTE. Copying or distribution of any material in this data base without the express permission of the compiler is forbidden.